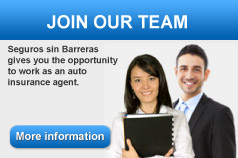 About us
Seguros sin Barreras is part of the sin Barreras family; a set of products and services with more than 30 years experience serving the Hispanic community.
We're proud to be the only accredited car insurance agency licensed to sell car insurance nationally. Although we have clients all over the country, we keep an individualized and personalized relationship with each of our insured customers.
All our representatives are committed to attending to the needs and doubts of our customers regarding their car insurance. To achieve that, we have a simple way of working: we take the time to listen to your needs and understand your budget and personal situation. Based on that information, we look for and offer our clients the best available price. At Seguros sin Barreras we work with over a dozen insurance companies, which means a greater variety of price and coverage options for you.
The Seguros sin Barreras mission is to make sure that each one of our insured customers is completely satisfied. Our clients save time and money because we don't have any hidden fees or hard to understand contracts. Our prices are always real and clear.
We're also aware that our responsibility does not end with the selling of a policy; that's precisely when our work begins. We want you to be a satisfied customer for many years.


Valeria Rico
President
Seguros sin Barreras